Above the knee boots are in fashion again, and although the female body make sensual and feminine, with wearing the same it's easy to make a mistake, especially because of the vulgar looks that give the wrong combinations.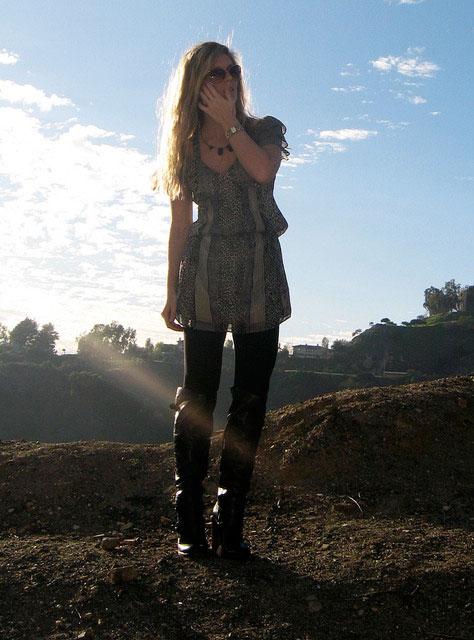 It is an established rule that these boots can carry only high and very slender girl, but the truth is that you can wear them all – just the right combination.
Here are some tips:
1. If you are tall and slender
Congratulations, you can wear whatever you want on these boots. Tight pants, mini skirts, shorts, pantyhose with stripes … choose!
2. If you have apple figure
With these boots you will be excellent flowing mini skirt or shorts combined with shirts and blouses that have a V-neck. V-neck will visually lengthen and attenuate the upper body.
3. If you are pear-shaped timber
If you are slim, you can wear a tight dress, but she must have some interesting detail in the upper part, such as the steering wheel on the sleeves or a live specimen to visually fill out and figure do so harmonious. Do you have a few pounds overweight, select wide skirts and tight t-shirts in cheerful patterns and vivid colors.
4. If you have an hourglass figure
If you have a luscious feminine curves, be careful with these boots so you do not look too vulgar. A great choice for you are high boots with flat heels, and if you opt for boots with heel remember – no deep neckline and too short mini skirt! Choose elegant and feminine pieces, and avoid too narrow, and prevrećaste.
5. If you have low
And short girls can wear these boots, they just have to adapt their structures. Choose boots that do not reach too high and wear them with a single color combinations. You can elongate the legs and cute nylons with horizontal stripes.
6. If you are plus-size
Fluttering dresses and super cute boots will fit into your 'look'. You can select a knee-length skirt, blouse and narrow figure visually elongate the long cardigan to her knees. Avoid baggy and very loose clothing.
More important rules!
With high boots, never wear:
Lace dress or one with a faux animal prints
Transparent stockings with cheap white reflection
Skirts that cover the boots for more than 2-3 centimeters
Long skirts
Leggings with a short T-shirt (tunic is required)
Anything that will look vulgar.
Little trick!
If you want to test whether high boots fit with your wardrobe, at home, try a few key combination with thick black thigh.
Photo by Maegan Tintar CC BY