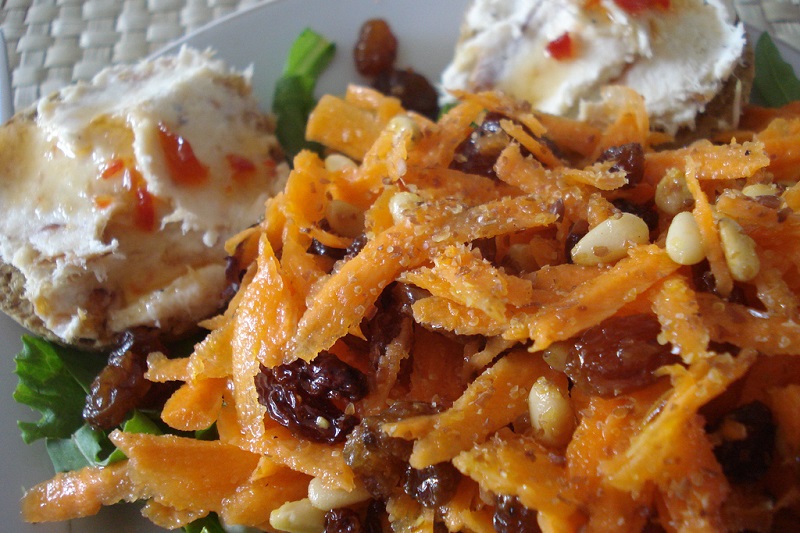 An excellent reason that instead of reaching for margaritas with fresh lime. Lime flavor gives this by the Indian style curry salad perfectly seasoned flavor. Quinoa is rich in carbohydrates and protein, so that after one of these salads stay happy with a full stomach and the necessary energy. All you need for this salad is:
2 limes
1 cup dry quinoa,
1 ¼ cups water
3 tablespoons extra – virgin olive oil
1 ¼ teaspoons curry spices
¾ teaspoon salt
300 g of chopped carrots
1 cup chickpeas without added salt (garbanzo beans), washed and dried
1 ½ cup thinly sliced ​​green onion
¼ cup sliced ​​almonds, toasted
¼ cup of dried berries or golden raisins
3/8 teaspoon pepper
Firstly drain or finely cut lime to produce a 1 ½ teaspoon peel, then both squeeze of lime juice. Then in the braising pan, combine 3 teaspoons lime juice, quinoa, water, a teaspoon of olive oil, curry spices and ½ teaspoon salt. Bring to a boil, then reduce the heat, cover and leave to cook over moderate heat for about 15 to 20 minutes, until the quinoa becomes transparent and until all the liquid is absorbed. Allow to cool and then place in a large bowl. When cool, then add the carrots, chick peas, scallion, almonds and dried berries and mix. In a small bowl, combine the remaining 3 teaspoons lime juice, lime peel, remaining 2 teaspoons oil, ¼ teaspoon salt, and 3/8 teaspoon pepper, stir until all is not well mixed. Pour over quinoa mixture and unite all together. Then divide the mixture evenly into four bowls.
Nutritional Facts
In a salad bowl, we have: 431 calories, 14 grams fat (1.9 g saturated fat), 511 mg sodium, 60 grams carbohydrates, 10 grams of fiber and 17 grams of protein.
Tips for you: If you can not find curry spice, you can make your own so you will need to use a small teaspoon curry powder 1/8 teaspoon ginger and 1/8 teaspoon cinnamon.
Photo by Julie Gibbons / CC BY