We all know that lemon is rich in vitamin c, but what about the kiwi? When it comes to the content of vitamin C kiwi is definitely in the top 5. Due to the high concentration of vitamin C is excellent for strengthening the immune system, then in combat with various kinds of infections, has the potential to prevent and cure diseases of the airways, which are related to asthma. Kivi is known for having a higher potassium content of bananas.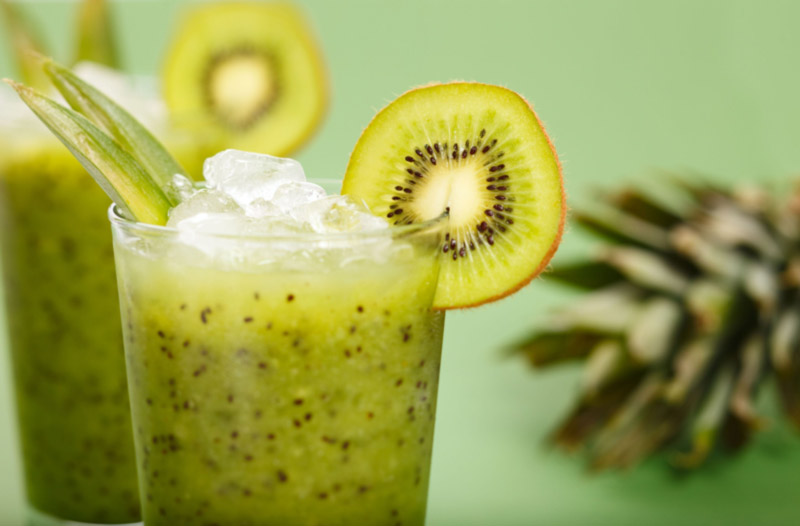 Potassium is good for the health of blood vessels, and thus the control of blood pressure and heart protection. Because of the high fiber content helps regulate digestion and chairs, and prevents invasion digestive tract, from prison to colon cancer. The fibers are classified it as a natural laxative. Because of the high fiber content helps in lowering cholesterol and diabetes kontolisanju. Kiwi also contains a high percentage of antioxidants, such as vitamins A, E and C.
Ingredients
3 small kiwi
3 dl pineapple juice
juice of 1 lemon
juice of 2 oranges
mint leaves as decoration
Preparation
Fill high-thirds cup with crushed ice. Add the diced kiwi.
All pour the juice from the pineapple, orange and lemon and garnish with mint leaves.
Served for 4 people.
 Energy value per person 105 kcal (441 kJ)
Composition per person
0.39 g of fat (of which the unsaturated 0 g),
Cholesterol 0 mg,
18 g carbohydrates,
protein 2.4 g
salt 74 mg.