Exercise primarily favor the formation of the waist, thigh and back muscles.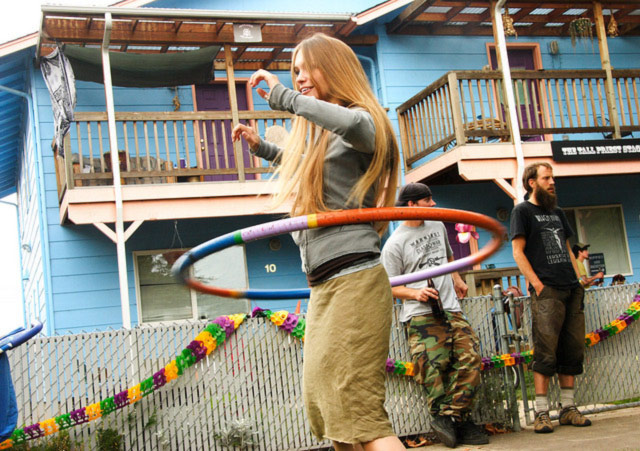 Rhythmic gymnastics is in many ways different from conventional exercise, and one of its specificity and that you can alone determine the pace and speed exercises, in accordance with the music you love to listen to. Once you hear the first beats of your favorite songs, there are just to take the ring and let the melody.
In rhythmic gymnastics, it is important to synchronize the movements with the rhythm of the music, which means that these exercises require a high concentration, but are also great for relaxing after a busy day. Rhythmic gymnasts are known for their twists and turns, and the exercise primarily favor the formation of the waist, thigh and back muscles.
Rhythmic Gymnastics develops agility, coordination of movement, musicality and creativity. The exercises can be performed with props such as balls, ropes, cones, and we present five gentle rhythmic exercises with hoop.
Take the first hoop, get into it and start to rotate it around the waist. It's a great warm-up exercise and helps shape the waist.
Kneel on the floor and hands roll the hoop on the floor. Exercise is good for relaxing the spine.
Sit on the floor with one knee, and extend the other leg to the side. With ring in hand making drift towards the leg that is stretched out. Then reverse the position of the legs and repeat everything. This exercise stretches your lateral muscles and shape the waist.
Stand on one leg and the other to correct back to the above, as long as you can. Hand, hold the ring leaning on the floor and roll it with your fingers while standing in this position. In this way, the femoral muscles tighten.
Stand up straight and put your hands behind the hoop. Make a turn to the left and to the right, but by moving the upper body while your hips stationary. Exercise benefits the formation of the back muscles.
Photo by Jonathan Lidbeck CC BY