This recipe Greek food turns into a meal with 24 grams of protein and six grams of fiber that kills hunger. After eating a salad like this, your stomach will be ok for hours.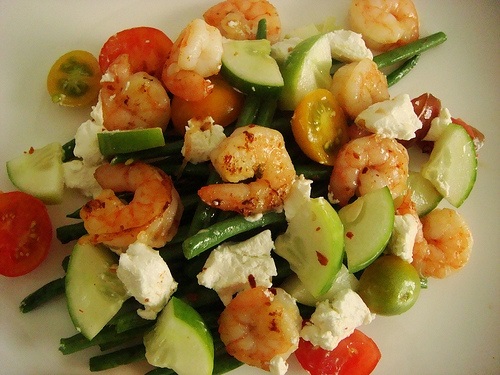 To prepare the salad you need:
2/3 cup medium ground bulgur?
1 2/3 cups of water
1/3 cup fresh lemon juice
350 grams of pre-cooked or thawed shrimp, coarsely chopped
3/8 teaspoon black pepper
1 cup cucumber cut into cubes
2 cups small tomatoes
½ cup chopped red onion
½ cup chopped parsley
2 teaspoons olive oil
½ cup (50-60 grams) of feta cheese into cubes
¼ teaspoon salt
As the first in-depth frying pan bulgur, water and two tablespoons of lemon juice, wait a boil, then cover and cook over moderate heat until tender, around 15 minutes. Then drain and let cool. Place the shrimp in a large serving bowl, sprinkle with two tablespoons of lime juice and 1/8 teaspoon pepper and let stand for about 5 minutes. Then stir in a mixture of cucumber, tomato, onion, parsley, oil and cheese. Add salt leftover lime juice and ¼ teaspoon pepper the rest of the mix. Stir in the cooled bulgur (pasta from durum flour) and evenly divide into four pots.
Nutritional Facts
One bowl contains 301 calories, 12 g fat (3.5 g saturated fatty acids), 513 mg sodium, 27 g carbohydrate, 6 g of fiber and 24 g of protein.