Lipstick is an essential part of the daily routine of make up almost all women. However, many ladies do not dare to use red lipstick. Fortunately, there are ways that you can master and confidently wear the perfect shade of red for your complexion. See 10 things you should and what should not do if you want to wear red lipstick.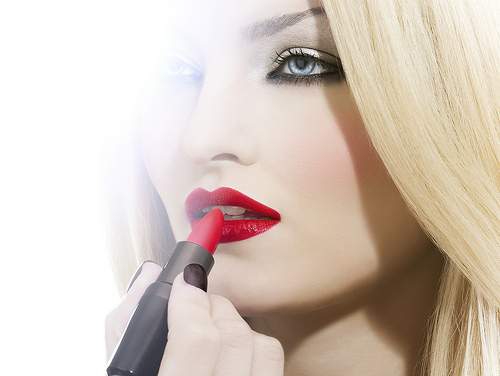 1. Apply a darker foundation
If you opt for a bold shade of red, you must have the appropriate background on his face. For those with lighter color good idea to apply a foundation that has olive undertone. Red lips can be too forward to pale complexion. What are you darker lips, is supposed to be darker powder.
2. Don't be afraid to experiment with colors
Do you like red lipstick on others, but I think yours was too showy? There is an easy solution for this: make your own color. Simply take the coral lipstick or colored marshmallow and mix it with lipstick in maroon color that you would like to try to wear. As a result you will get a much calmer shade that everyone could fit.
3. Choose color according to event
Everyone loves red lips and desirable, but that look is not appropriate in every situation. Darker shades can be too conspicuous to go to the gym or when taking the kids to soccer practice. And at work, surely you want more people to listen to you, and do not stare at your lips. Highlight your lips red shades if you go to a party or a night out, because you will probably be a real seductress and you will be the center of attention.
4. Do not go overboard with the amount lipstick
If you want to avoid if you are smearing lipstick, apply a light first coat on the lips. This is particularly important for red lipstick because it tends to remain on the teeth or the collar of a shirt. Once or twice the maximum run red lipstick over the lip and it will be enough to achieve the desired effect. If you want to apply lipstick like a pro, using a thin brush and dab her red lipstick on her lips.
5.Use lip liner
If you apply red lipstick without a pen, you run the risk that you smear on some lip. To make sure that your lipstick during the day to stand in place, lined with lip pencil in the appropriate tone. When you do this, lightly apply the inside edges of your favorite red lipstick shades.
6. Don't use too dark lipstick if you have thin lips
If you have thin lips, avoid very dark red lipstick, dark lipstick for extra visually reduce the lips. Use bright red to your lips acting fresher.
7. Combine it with brave outfits
When applying lipstick, it is important to plan what you are going to wear it. Your outfits should determine which shade you choose. Certainly not to combine deep red lipstick with a cheerful feminine looks of. Gentle pink lipstick would rather go with that look. On the other hand, the little black dress would be great to go with a lipstick in shades of candied apples. If you want to wear bolder combinations, then feel free to choose and that lipstick.
8. Don't wear too much jewelry around the face
Red lips in some ways like a necklace or earrings. Therefore, if you apply red lipstick you should treat your lips as jewelry. Less is more, so instead of striking necklaces, apply red lipstick the color of rubies that will attract all the attention.
9. Find your perfect shade for your complexion
It is difficult to choose the perfect shade of red lipstick. Maybe you love red lipstick, but not sure that would suit you. Therefore, it would be easy to try out different shades of various brands and then find the right one that suits your sensibilities. From light to dark and shiny and matte shades, its up to you to find one that is perfect for you.
10. Don't be afraid
To wear red lipstick is not only important to find the right color, but it is necessary to have an attitude. Be confident when you wear red lipstick! It may not suit everyone, but you never know until you try. Take risks and after you will be glad you did. When it comes to makeup, every woman should start with choosing the perfect shade of lipstick.
Why not try it with red lipstick? Whether you choose a lighter or darker, everyone will admire your bravery.
Photo by Jerine Lay |
Photo by Sara O'Malleyy / CC BY