Claims that swimming is dangerous for pregnant women and that the sun is harmful should remain on the sidelines. Couple measure of prudence and free rush to the beach.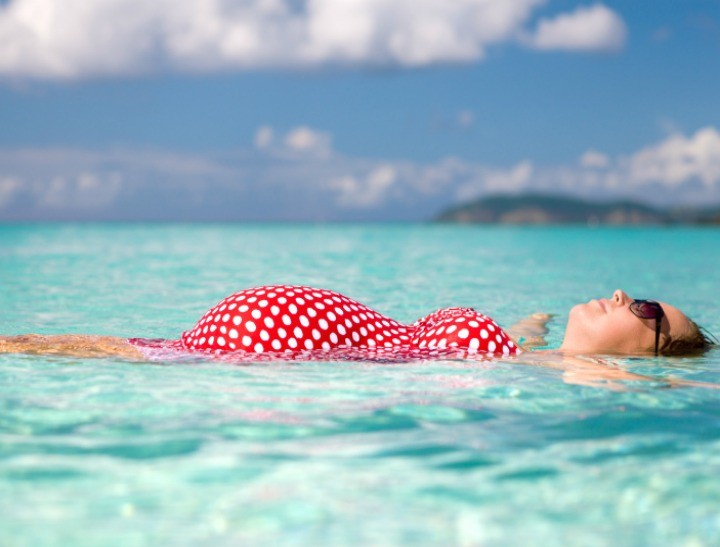 And doctors recommend going to the beach and swimming, but of course you have to pay attention to little things like prolonged stay in the sun or a sudden entering into water. Learn what to pregnant women still have to pay attention to the sea, river, lake or pool.
Swimming is one of the best exercises for pregnant women – do not overheat and do not burden the joints. However, it is important to pay attention to diseases transmitted by water. If inhaled, swallowed or you did come into contact with contaminated water it can cause certain health complications: E. coli, stomach and other viruses. The highest risk pools, especially those where a day "rumbling," a lot of people or not maintained regularly. Therefore, after each swim straight to the showers, but it is preferable that each time you change the costume.
Keep track of pregnancy regularly and consult with your doctor about swimming in the water. Water must not be too cold, you have to slowly get used to the temperature of the sea, lakes and pools. This time there is no jumping, water sports and other similar stunts. You need a peaceful relaxation, easy swimming.
It is interesting that pregnancy changes the pigment melanin and leads to increased skin darkening. While this is most pronounced in the belly and nipples, some changes complexion can be permanent, so it is better not to expose it to direct sunlight and, of course, use a cream with a high SPF. Like every sensitive person, avoid staying in the sun between 11 AM and 3 PM. For you, it is best that you are in the shade, well protected creams.
Do not you feel nausea, fatigue and dizziness (then you have to run away in a darkened room), choose cotton clothing, wear a hat and does not separate from the "water source".
Relax whenever you have the chance: chilled fruit, smoothies, chunks of ice. Walk barefoot, occasionally cooling off your feet and relax in a comfortable beach bar.
What are your experiences with going to the beach? How is cooled in the summer?