Artichoke is one of the oldest foods in the human diet, is a symbol of the French, Italian, Portuguese and Greek cuisine. It has aphrodisiac properties since it is rich in folic acid, stimulates appetite, improves digestion and liver function.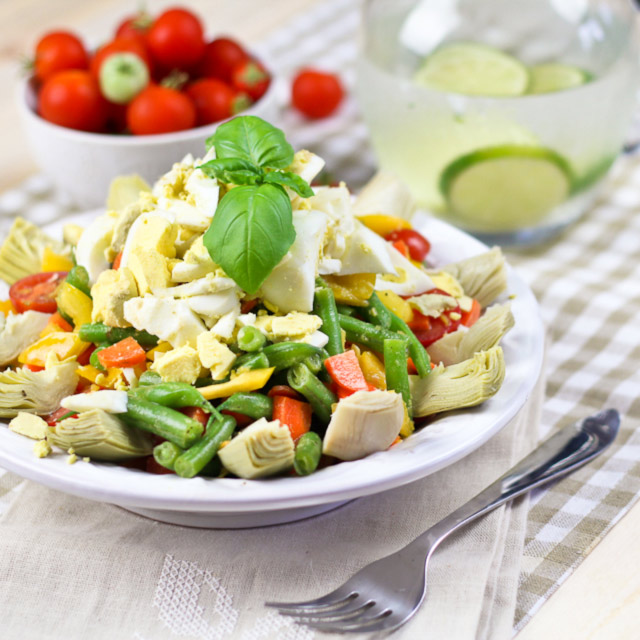 The food is prepared in various ways, most often from her real tasty salads, soups and spreads that can serve as hors d'oeuvres. Artichoke taste goes well with olive oil, peppers, mushrooms, onions, basil, dill, tuna, cheese with strong aromas.
Our present choice is a salad of artichokes.
Preparation: 10 minutes
Cooking: 20 minutes
Ingredients:
8 artichoke hearts (canned)
100 g cooked green beans
2 hard-boiled eggs
salt and pepper
2 tablespoons olive oil
juice of 2 lemons
mint leaves
chopped chives
1 lemon, sliced into rings
Boil the green beans and eggs. Remove and cool. Artichoke hearts and eggs cut into quarters and mix them with beans. All pour the lemon juice and olive oil and then add pepper, salt and chopped chives. Serve chilled and decorated with mint leaves and lemon slices.
Serve for 4 people.
Energy value per person: 158 kcal (664 kJ)
10 g of fat (of which 8 g of unsaturated)
106 mg cholesterol
11 g carbohydrates
6 g protein
salt 323 mg